Checklist
What You Need to Know
Double Check your high school requirements
UNM requires all students to satisfy a basic core curriculum before applying to our university. All students MUST satisfy the following minimum requirements:
| | |
| --- | --- |
| English: | 4 Units, including 11th or 12th grade Composition |
| Math: | 4 Units, Algebra I and higher  |
| Science: | 3 Units, two should be lab sciences |
| Social Science: | 3 Units, including US History |
| Foreign Language: | 2 Units, both must be in the same language |
| Unit GPA: | 2.5+ |
Meet a Recruiter
Have questions about UNM? Schedule an appointment to meet with a recruiter! Visit here to meet a recruiter in your state. 
Visiting Campus & Scheduling a Campus Tour
The University of New Mexico is a convenient 10-minute drive away from the Albuquerque International Sunport. Located on the historic Route 66, UNM is centrally located with many stops on the public Rapid Ride Transit system.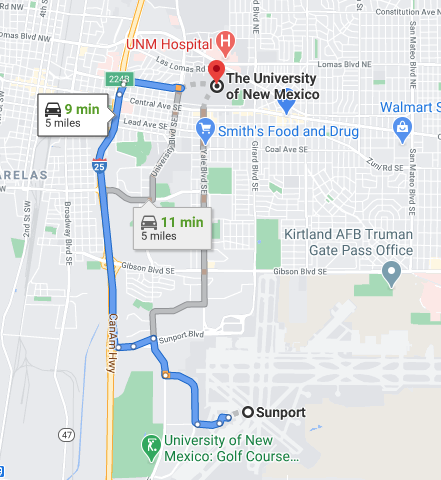 If you require accommodations, UNM offers several partner hotels with booking deals. Click here for more information.
UNM offers a campus tour program that is free and available to ANY student, regardless of age or grade level. It is never to early to start researching schools. After the tour, come and speak with one of our recruitment specialists who will sit down with you one on one to see where you are in the process of applying or help you get started. Schedule a campus tour HERE. 
While on campus, students can also utilize UNM's Map system to find their classrooms, shuttle stops, libraries, computer pods, dining, and more. Explore this useful tool here.
Apply to UNM
While UNM is on a rolling admissions basis, the sooner that you can apply the better. A few of our university scholarships have early deadlines. For priority consideration, we urge students to apply by May 1st. You can locate the online application at unm.edu/apply
Apply for Financial Aid
You will need to complete the FAFSA after taxes have been filed senior year. The priority deadline is March 1st. Learn more about FAFSA requirements and information here.
Apply for Scholarships
UNM has several scholarships for both in-state and out-of-state students. For details, visit the UNM Scholarship Office website.
Apply for Student Housing
Student housing is on a first come first serve basis, applying early allows your students to have a greater chance of receiving the living situation that they choose. There are two different types of student housing: university dorms and third-party campus communities through American Campus Communities located on or near campus. These properties are known as Casas Del Rio and Lobo Village and satisfy the freshman residency requirement.
To find more information on university dorms, please visit the UNM Residence Life & Student Housing website.
To find more information on American Campus Communities housing, please visit Casas del Rio's website or Lobo Village's website.
RSVP for New Student Orientation
New Student Orientation takes place throughout the summer of your incoming student's freshman year. The New Student Orientation allows for a smooth transition into UNM. Students will be given the opportunity to meet fellow students in the prospected degree track as well get a in depth look at our campus and register for their first semester of classes. This two day event is also open to parents as well. Sign up for New Student Orientation at nso.unn.edu.
Have your student RSVP a Parent or Family member for Family Connection Orientation
At UNM we feel it is just as important for you to get acquainted with the university as it is for your new student. Making a smooth transition is the key to success. That's why we offer the Family Connection Orientation program specifically for parents and families of new students. While your student is learning the ropes; you can sit through your own orientation to ensure you are getting your questions answered.
The Family Connection Program is for parents and family members of freshmen students attending Lobo Orientation. It is a day and a half program composed of a wide variety of presentations on everything from finances to academics. Included are relationship workshops and student panel discussions all geared to help our parents and families get acclimated to UNM. Students will need to reserve this space for a family member through their registration for New Student Orientation. For more information about Family Connection Orientation, visit here.